blog home Firm News Singleton recognized by Gloucester Board of Supervisors for 15 years of legal service to indigent citizens
Singleton recognized by Gloucester Board of Supervisors for 15 years of legal service to indigent citizens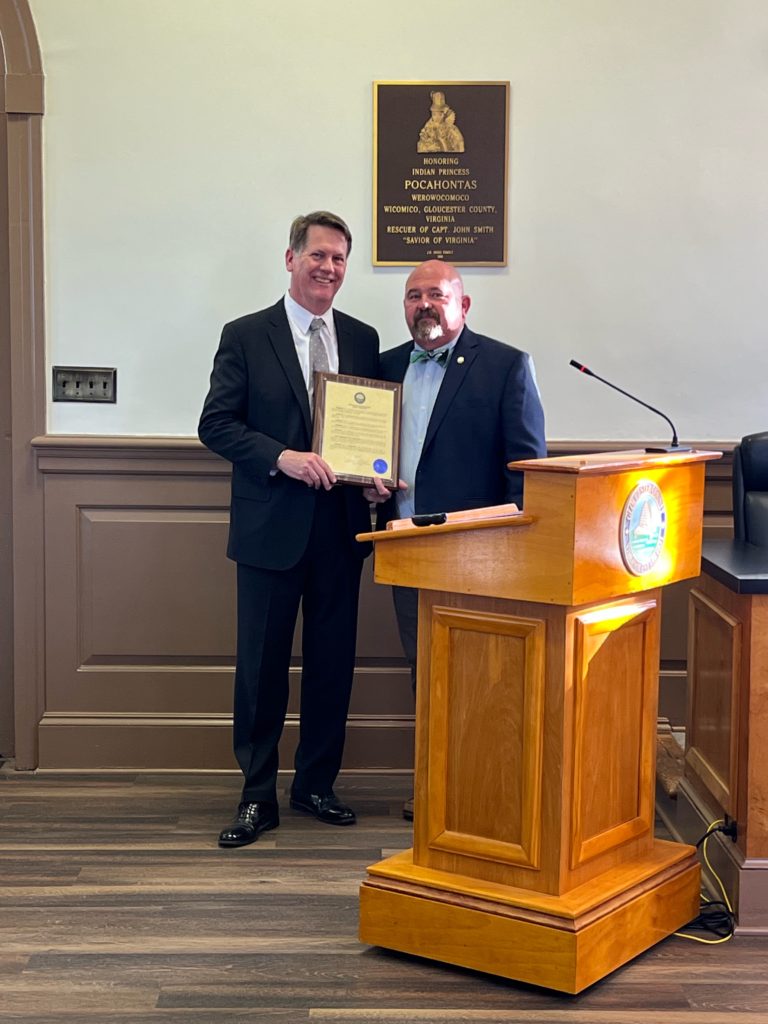 John A. Singleton, a partner at GibsonSingleton Virginia Injury Attorneys, was recognized by the Gloucester Board of Supervisors at their April 4 meeting for his 15 years of legal service to indigent defendants.
Reading the Resolution of Recognition, Board Chair Chris Hutson stated, "John Singleton has served as court-appointed counsel for indigent defendants in the General District Court since 2007. Singleton has been dedicated to serving the Court and the citizens of Gloucester. His performance and working relationships were always characterized by obvious dedication. The Board congratulates Singleton and deems it an honor and a privilege to present this Resolution of Recognition for his service."
Singleton was recommended for the honor by Judge Stephanie Revere of the General District Court of Gloucester.
Ken Gibson, Singleton's law partner and member of the Gloucester Board of Supervisors, said, "I've been John's partner for 10 years and shared an office with him for longer. One thing I can tell you about John is that he puts his heart and soul into every case he takes on. He truly has compassion for every client and his dedicated service has been such a benefit to our courts and our community."
Following the recognition, Singleton thanked the Board and Judge Revere and said, "A justice system without representation is unjust. Virginia has the lowest pay rate for court-appointed counsel in the entire country, but we are all proud of the work we do."
More information
GibsonSingleton Virginia Injury Attorneys represents people injured through no fault of their own. They advocate for those hurt in car, truck, and motorcycle wrecks, as well as for those hurt by sexual abuse, medical malpractice, water accidents, and dog attacks. They seek the maximum compensation possible for the injured so that clients can put their lives back together. The firm is only paid once a client receives compensation. More information is available at GibsonSingleton.com, or by calling (804) 413-6777.
Share This Page:

It costs you nothing for our firm to represent you. We only get paid when you do. Learn more
Prevention, empathy, and diligence are hallmarks of everything we do at GibsonSingleton Virginia Injury Attorneys. Our community can see these ideals lived out in our work to prevent personal injuries from happening.
Safety Education
GibsonSingleton launches a "Texts=Wrecks" campaign to reduce the number of people injured or killed by distracted drivers.
Annual Coat Drive
During the fall, our team works to distribute coats to people in need in our community.
Hands-on Service
John and Ken join the Gloucester Point Rotary Club in cleaning up the community.
Supporting Local Schools
The Gibson family participates in Gloucester's Botetourt Elementary Shuffle fundraiser.