In this Article
Ways to get your police report
All accident reports in the Commonwealth are maintained by the DMV, and you can contact the DMV to request a copy of your Police Crash Report. There is an $8 fee to request a copy of a Police Crash Report. To request one, simply fill out Form CRD-93 and send it to DMV.
You can also request a Police Crash Report from the Virginia DMV via:
1. Mail: Customer Records Work Center, Room 514
Virginia Department of Motor Vehicles
Post Office Box 27412
Richmond, VA 23269
To pay the fee, you must include a check or money order. The DMV does not accept credit card payments via mail.
2. Fax: (804) 367-0390
You will need to fill out a "License, ID Card and Records Payment Authorization" (Form DMS 004) and include it in the fax.
3. In-Person: You can request a copy of the Police Crash Report directly from your local DMV. Local offices accept payments in cash, check, money orders, debit, and credit cards.
Why is a police report important?
After an auto accident, the police will write a report about the crash, which will help when you are ready to file a claim with the other driver's insurance company. In Virginia, a law enforcement officer is only required to prepare a "Police Crash Report" when a person is injured or killed in a car accident or when the estimated property damage is more than $1,500.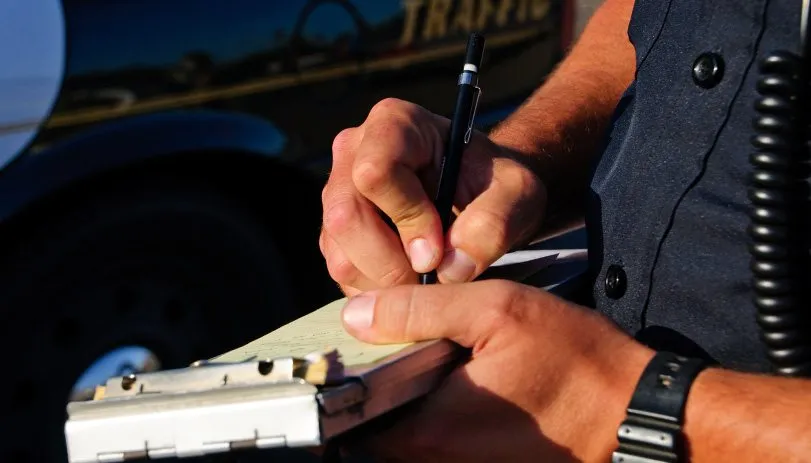 What is in a Police Crash Report?
A police report will include all the important details about your accident, including:
The names, insurance, and contact information of everyone involved in the crash.
When and where the accident occurred.
If anyone suffered injuries.
If anyone suffered property damage.
Who the officer believes was responsible for the accident.
If either driver committed a traffic violation (DUI, speeding, using a cell phone, etc.).
Why should I contact the police to report a car accident?
After being in a car accident that causes injury, death, or damage to someone's property, you are legally required to call 911 and report it to the police (Va. Code § 46.2-894). It is also the duty of every driver to pull over after being in a collision and make sure the other driver is safe. If you leave the scene of the crash without reporting it, you can be charged with a hit-and-run by the police. You do not have to report an accident if it only involves minor cosmetic damage to a vehicle and no injuries.
Reporting a car accident is also important when it comes to filing an insurance claim for compensation. A police accident report holds a lot of weight in a claim with an insurance company. It can show how serious the accident was, how you were injured, and how the other driver may have acted negligently. Without a police report, it is harder to support your car accident claim and get you the money you need to pay your medical bills and other expenses.
How is a police report created?
You can report a crash directly by calling 911. Either someone from the County Sheriff's Office, a city police department, or the Virginia State Police will come to the scene to make sure you are safe. They will also contact paramedics so that you can get treatment for your injuries immediately. The officer on scene can also collect each driver's insurance information (in case the other driver didn't give it to you after the crash), as well as note if the other driver violated the law.
If you were not able to report a wreck due to your injuries, don't worry, because you can still file a report later by filling out Form FR200 "Voluntary Report of a Crash," and sending it to DMV.
Who can get a copy of my accident report?
The DMV can provide reports to anyone involved in an accident, as well as an authorized representative, including:
Drivers
Passengers
Injured pedestrians
A personal representative of accident victims, including attorneys
Insurance adjusters
Parents or legal guardians of accident victims who are under 18 years old
Who can help me after an accident in Eastern Virginia?
If you were injured by a negligent driver in Virginia, contact us, personal injury lawyers at GibsonSingleton Virginia Injury Attorneys. Our partners, Ken Gibson and John Singleton, know firsthand what it's like to be injury victims. We bring empathy and compassion to every client. We also bring expertise in dealing with insurance companies. We will fight to get you the compensation you deserve to get better and get your life back.
GibsonSingleton Virginia Injury Attorneys serves our neighbors here in Virginia, and we work to prevent injuries from happening by sharing safety information with our community. But when a serious accident happens, we consider it a calling to help those who are hurt.
There is no cost to meet with us in a free consultation to talk about what happened to you and explain your options. If it makes sense for you to hire us to represent you, we can obtain a copy of your police crash report, guide you through the claims process, and handle all the legal burdens of your case. We also work on a contingency-fee basis, meaning we don't charge to represent you. We only get paid when you do.
Call us at (804) 413-6777 or toll-free at (855) 781-6777 to tell us what happened to you and to find out your best options.