blog home Car Accidents Yes, tractors and farming vehicles have the right away in Virginia. How can you stay safe on the road with them?
Yes, tractors and farming vehicles have the right away in Virginia. How can you stay safe on the road with them?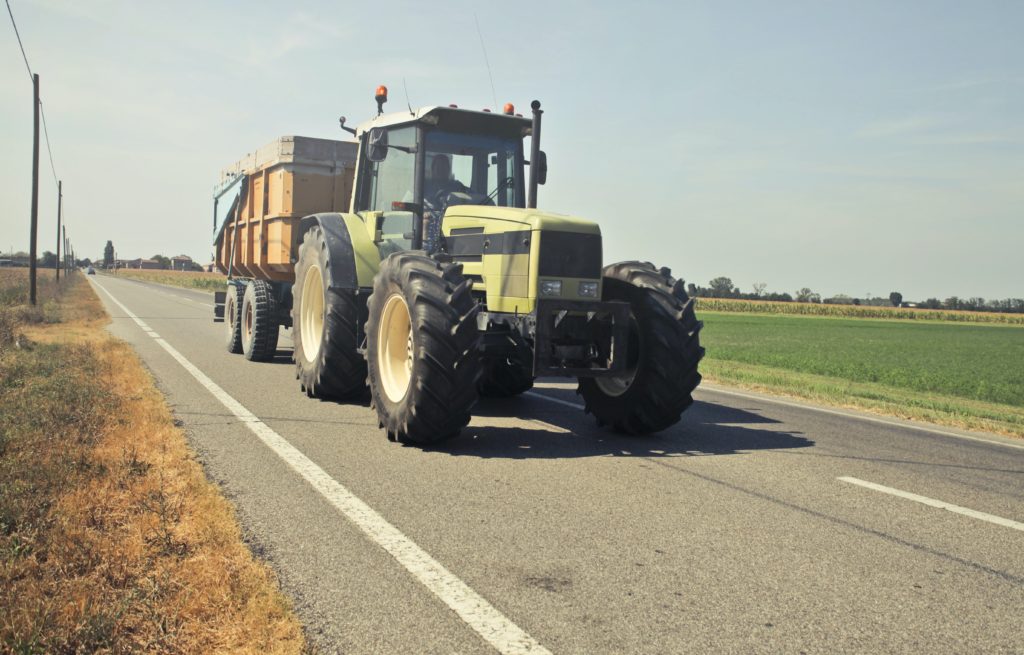 Virginia has changed a lot over the last 20 years. Our population has grown by more than 1.5 million, and our economy continues to diversify and expand. But agriculture is still the largest industry in the Commonwealth.  What does that mean for drivers?
More people means more traffic, and more traffic increases the chances of cars coming into contact with  farming equipment on Virginia roads, especially in rural areas.
Collisions with farm equipment cause serious injuries for people on tractors – they don't have the same level of protection as standard motor vehicles. People traveling in passenger vehicles can also sustain severe injuries in accidents with farm equipment because tractors and similar equipment are heavy and don't give way easily.
To save lives, drivers must watch out for farm equipment on the roads. And if you do encounter farm equipment, slow down and wait for a safe opportunity to pass.
What are the rules for farm equipment operators on Virginia roads?
Farm equipment and tractors are permitted to use roads in Virginia, but they're not allowed to be on highways. They are required to have "Farm Use" license plates, and any vehicle that travels slower than 25 mph must post an orange triangle, "Slow Moving Vehicle" (SMV) sign.
You're more likely to see farm vehicles during planting and harvesting seasons, but you could encounter them any time. People who are new to the Commonwealth are often confused about why farm vehicles are allowed on the road, but it's necessary because farmers frequently own or lease unattached land.
Farm equipment is only allowed on the roadway within 50 miles of the farmer's base of operations. And when a tractor is using the road, it must be for the "business of farming," such as transporting tractors, sprayers, and harvesters to a field that needs to be worked. No matter who's driving the vehicle, its owner is legally responsible for any injuries that result from a collision.
Anyone who operates farming equipment on the roads of Virginia must follow these rules:
Don't use a farm vehicle to transport passengers.
Never haul oversized loads.
Always display your "Farm Use" tags and "SMV" sign.
Stay off the interstates.
Obey all traffic laws.
Trailers and lowboys are subject to the necessary permits.
How can I share the road safely with farming equipment?
People who operate farming equipment have the same right to use the roads in Virginia as everyone else. The two main tips to remember when sharing the road with farming equipment are: be patient, and stay alert.
Always be on the lookout for farm equipment, and start to slow as soon as you see an SMV sign. Drivers don't always realize how quickly the distance will close as you approach a vehicle that's going much slower than you are.
A lot of accidents happen because drivers simply refuse to wait for a safe opportunity to pass. And unsafe passing can be deadly on rural roads where space is limited.
Drivers should follow these safety tips when you come upon a farm vehicle along the roadway:
Reduce your speed immediately.
Remain calm.
Never cross a double line to pass another vehicle.
Never pass around a blind corner.
Never pass while going over a hill.
Don't drive too fast.
Don't be in a hurry to get where you're going. It's not worth your life or someone else's.
Were you harmed in a crash involving farm machinery?
At GibsonSingleton Virginia Injury Attorneys, we are former U.S Marines who have dedicated our law practice to helping our neighbors in Virginia put their lives back together after an accident. We understand what you're going through because we've been there ourselves. We will serve you with excellence and empathy.
We've won millions of dollars in settlements for our clients. Call us at GibsonSingleton Virginia Injury Attorneys, (804) 413-6777,  to schedule a FREE consultation today.
Share This Page:

It costs you nothing for our firm to represent you. We only get paid when you do. Learn more
Prevention, empathy, and diligence are hallmarks of everything we do at GibsonSingleton Virginia Injury Attorneys. Our community can see these ideals lived out in our work to prevent personal injuries from happening.
Safety Education
GibsonSingleton launches a "Texts=Wrecks" campaign to reduce the number of people injured or killed by distracted drivers.
Annual Coat Drive
During the fall, our team works to distribute coats to people in need in our community.
Hands-on Service
John and Ken join the Gloucester Point Rotary Club in cleaning up the community.
Supporting Local Schools
The Gibson family participates in Gloucester's Botetourt Elementary Shuffle fundraiser.