blog home Insurance What happens if I'm stopped by a Virginia police officer and I do not have insurance?
What happens if I'm stopped by a Virginia police officer and I do not have insurance?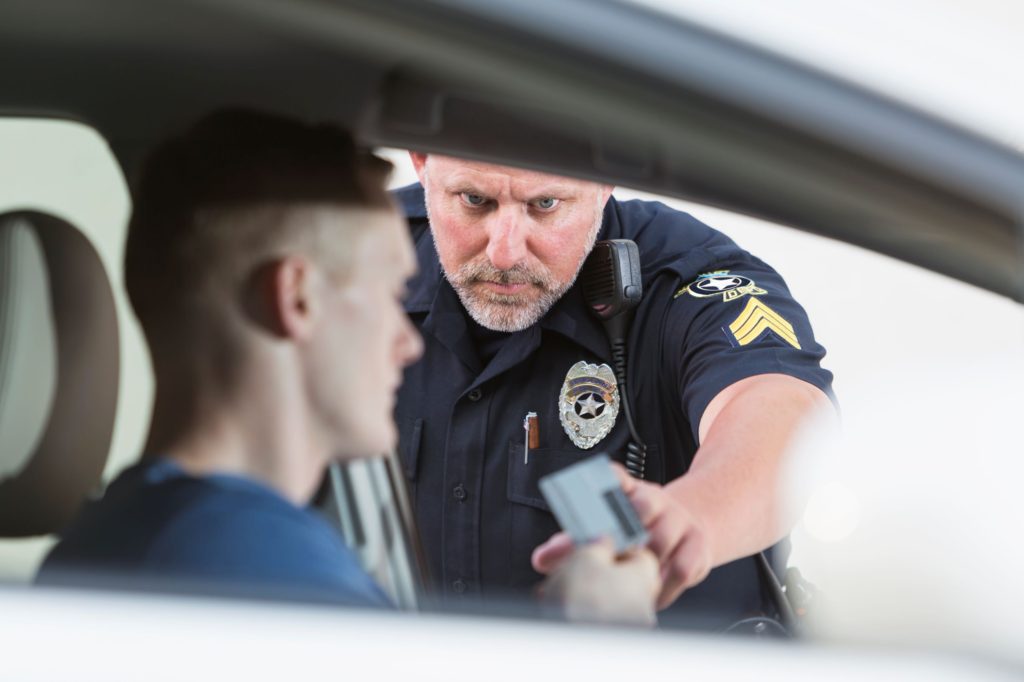 Flashing blue lights in your rearview mirror are rarely a good sign. What happens if you are stopped by law enforcement while driving on a public road, and you do not have automobile, truck, or motorcycle insurance? Answer: a lot.
Do I have to have insurance in Virginia?
In Virginia, you are required to maintain proof of financial responsibility for your automobile, truck, or motorcycle when you use it on public roads (Va. Code §46.2-435). This proof can be an automobile liability insurance policy, a bond, a deposit of money, or a self-insurance certificate filed with the Commonwealth (Va. Code §46.2-436).
The most common form of proof is the automobile insurance policy. You are required to maintain liability coverage for bodily injuries of $25,000 per person, $50,000 per accident if two or more persons are hurt, and $20,000 for property damage.
What are the penalties for driving without insurance?
Back to the blue lights. If you do not have proof of financial responsibility, you may be ticketed by the officer. If convicted, you will be found guilty of a Class 3 misdemeanor, which carries a fine of $500. The Virginia Department of Motor Vehicles will impose additional penalties.
As the owner of the vehicle, you will then have to verify insurance coverage to the DMV within 30 days of a request. And if you fail to provide the proof, after an opportunity for an administrative hearing, your operator's license and all registrations and license plates issued to you will be suspended. To get your license, registration, and plates reinstated, you will have to pay a $600 noncompliance fee and provide proof of financial responsibility.
When you register a vehicle with the DMV, if you are unable to get proof of financial responsibility — either because you cannot get automobile insurance due to cost or your driving record, or because you simply cannot afford to provide proof of financial responsibility (such as a bond or deposit of money), then you may pay DMV a $500 uninsured motorist fee every year. It is important to remember that the uninsured motorist fee does not provide a driver with any insurance coverage or source of money to pay for property damage and medical bills in the event of a car accident.
How should I act if I am pulled over?
If you are driving and you get stopped by the police for any reason, be polite. Do not argue with the officer. At best, when you go to court, the officer may tell the judge you were respectful and cooperative, and the judge may show you a little mercy.
If the officer asks for your proof of insurance, show him your insurance card or certificate. If you do not have insurance or you don't have your card or certificate, be honest and tell the officer you don't have it with you, or you don't have insurance. Do not invent an explanation.
The officer will take a few notes, and in court, he will repeat back to the judge exactly what you said two months ago while on the side of the road.
If you are able, before you go to court, get insurance coverage, or pay the uninsured fee of $500 to the DMV. Bring your proof of insurance to court and ask the judge to give you a break.
What happens if I'm in an accident and do not have insurance?
If you get in a wreck that is your fault, and you do not have insurance, you may be held personally responsible for all bodily injuries and all property damage, which may include the other driver's vehicle, or any objects you may have it in the crash such as a telephone pole, or a mailbox, among other things.
If the vehicle you hit is covered with insurance, that insurance must include uninsured motorist coverage. This means that, although the wreck was your fault, the other driver's insurance may compensate the injured driver and passengers for the costs of your wreck.
However, that automobile insurance company has the option to come after you for reimbursement of the money it pays to the injured parties. And if the uninsured coverage is not enough to pay for the injured peoples' damages, you may have to pay those out of your own pocket.
How much car insurance should I have?
Carry as much insurance as you reasonably can afford. Wrecks are never planned, and the injuries people suffer vary widely. A healthy young person might suffer a traumatic brain injury that requires hundreds of thousands of dollars of treatment, while an elderly person may get bumped in the back, receive ambulance transport, and never have to see a doctor.
Airbags and seatbelts do reduce injuries, but people still get hurt and killed in car wrecks every day. Having the minimum coverage of $25,000 protects you only at the lowest level. So, drive safely!
Who should I call if I'm hit by an uninsured driver?
If you are hit by an uninsured driver, don't lose hope. Virginia car insurance policies must include uninsured motorist coverage. With this coverage, you can file a claim with your own insurance company to recover the costs of your injuries. Uninsured motorist coverage will always match your liability policy, meaning if you have $25,000 in liability coverage, then you can receive up to $25,000 in uninsured coverage for your injuries. If that's not enough, you may also have the option of "stacking car insurance policies" if a close family member has car insurance.
At GibsonSingleton Virginia Injury Attorneys, we seek to prevent people getting hurt in wrecks in the first place through public education. But when accidents do happen, we are here to fight for our neighbors who are injured. Both my partner, Ken Gibson, and I know firsthand what it's like to be injured in a car accident. So, we bring empathy and compassion to every client.
We've experienced the frustrations our clients face — pain, suffering, fear, difficulty dealing with insurance companies, and pressure to settle without a lawyer. That's why we do everything possible to make the legal process easy for our clients, so they can focus on getting better and getting their life back.
If you were injured by an uninsured driver, call us at (804) 413-6777 or toll-free at (855) 781-6777. We are dedicated Virginia car accident attorneys, and we will stand up for you after an accident. We offer every client a Zero Fee Guarantee, meaning it costs you nothing for our firm to represent you. We only get paid when you do.
Share This Page:

It costs you nothing for our firm to represent you. We only get paid when you do. Learn more
Prevention, empathy, and diligence are hallmarks of everything we do at GibsonSingleton Virginia Injury Attorneys. Our community can see these ideals lived out in our work to prevent personal injuries from happening.
Safety Education
GibsonSingleton launches a "Texts=Wrecks" campaign to reduce the number of people injured or killed by distracted drivers.
Annual Coat Drive
During the fall, our team works to distribute coats to people in need in our community.
Hands-on Service
John and Ken join the Gloucester Point Rotary Club in cleaning up the community.
Supporting Local Schools
The Gibson family participates in Gloucester's Botetourt Elementary Shuffle fundraiser.