blog home Car Accidents Personal Injury Seven tips to drive safely in construction zones
Seven tips to drive safely in construction zones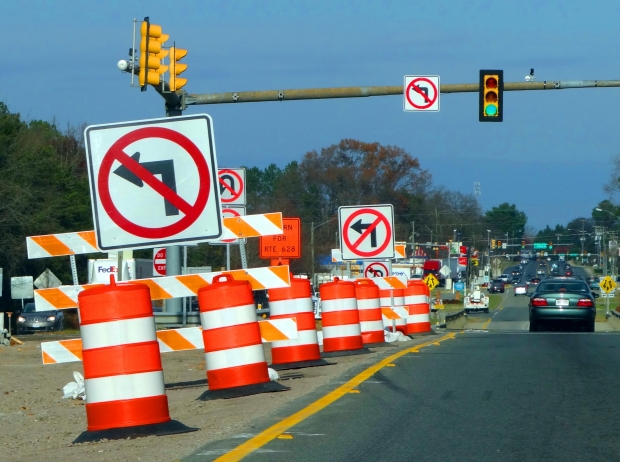 Keeping traffic flowing smoothly on our roads and highways is vital for maintaining a robust economy in Virginia. Our more than 6 million licensed drivers average one-way commutes of almost 30 minutes each day. Further, more than 10 percent of Virginia commuters work in another state.
The men and women who do construction on our roads are essential for allowing commuters and others to get where they need to go. Our construction workers have difficult and dangerous jobs.   When you see signs indicating that road work is ahead, slow down, and follow all the rules to keep yourself and others safe.
Seven great ways to stay safe in construction zones
Construction zones are a hazardous place for drivers and construction workers alike. In a recent year, 842 people died in construction zone accidents in the United States, and 17 of these fatalities happened in Virginia.
At GibsonSingleton Virginia Injury Attorneys, we want all our friends and neighbors to have a pleasant commute and make it home safely every day. To help protect everyone, we offer seven tips for drivers who encounter highway work zones.
Slow down. The posted speed limits in a work zone help protect everybody. That's why Virginia imposes fines of up to $500 for drivers who do not obey the maximum speed limit for highway work zones, and this includes construction or maintenance areas on or beside a highway that are marked with warning signs.
Prepare to merge. The number of available lanes is often reduced in a construction zone, causing bottlenecks that slow traffic. Watch out for cones, partitions, and other indications of closed lanes. Turn on your blinker at least three seconds before changing lanes, and make sure a lane is vacant before merging.
Follow directions. The construction workers who direct traffic or hold signs that say "Stop" or "Slow Down" are called flaggers. It's mandatory to follow their instructions, and to obey all posted signs.
Drive defensively. Rear-end collisions are the most common type of accidents in a construction zone. So, slow down, avoid tailgating, and give yourself as much room as possible so you can react to any sudden stops.
Expect delays. As soon as you see signs that there's road work ahead, accept the fact that you are going to be delayed. Try to relax and take deep, slow breaths if necessary.
Find alternate routes. Often, signs are posted in advance informing about future road construction. Researching alternate routes in advance allows you to avoid construction zones altogether.
Eliminate distractions. Distracted driving is a major cause of accidents and it can have catastrophic results in a construction zone where so much activity is happening. Never text while you're operating a motor vehicle, and remember that it's illegal to use a handheld phone while driving in Virginia.
Were you injured in a construction zone accident?
If you are a driver or construction worker who was injured in a work zone accident caused by another person's negligence, you may be able to get compensation to cover the costs of your injuries.
As car accident attorneys, we will investigate your accident to determine if the careless actions of a construction company, a government agency, or an unsafe driver were responsible for your injuries. Negligent behavior may include the following:
Failure to place sign, cones, or barricades to protect you from a hazard
Failure to close unsafe lanes
Failure to maintain construction zone safety protocols
Unsafe actions by a driver or construction zone worker
Hazards or obstructions in the roadway
Getting the money you deserve after a construction zone accident
You shouldn't have to pay for your own medical bills and other accident-related expenses if your injuries were caused by another person's careless behavior. At GibsonSingleton Virginia Injury Attorneys, we can file a claim to help you get the money you deserve to recover after an accident.
We work on a contingency basis, meaning that we get paid when you get paid. Call (804) 413-6777 today to set up a free meeting with us to find out your best options.
Share This Page:

It costs you nothing for our firm to represent you. We only get paid when you do. Learn more
Prevention, empathy, and diligence are hallmarks of everything we do at GibsonSingleton Virginia Injury Attorneys. Our community can see these ideals lived out in our work to prevent personal injuries from happening.
Safety Education
GibsonSingleton launches a "Texts=Wrecks" campaign to reduce the number of people injured or killed by distracted drivers.
Annual Coat Drive
During the fall, our team works to distribute coats to people in need in our community.
Hands-on Service
John and Ken join the Gloucester Point Rotary Club in cleaning up the community.
Supporting Local Schools
The Gibson family participates in Gloucester's Botetourt Elementary Shuffle fundraiser.