blog home Personal Injury Is the dust in airbags dangerous?
Is the dust in airbags dangerous?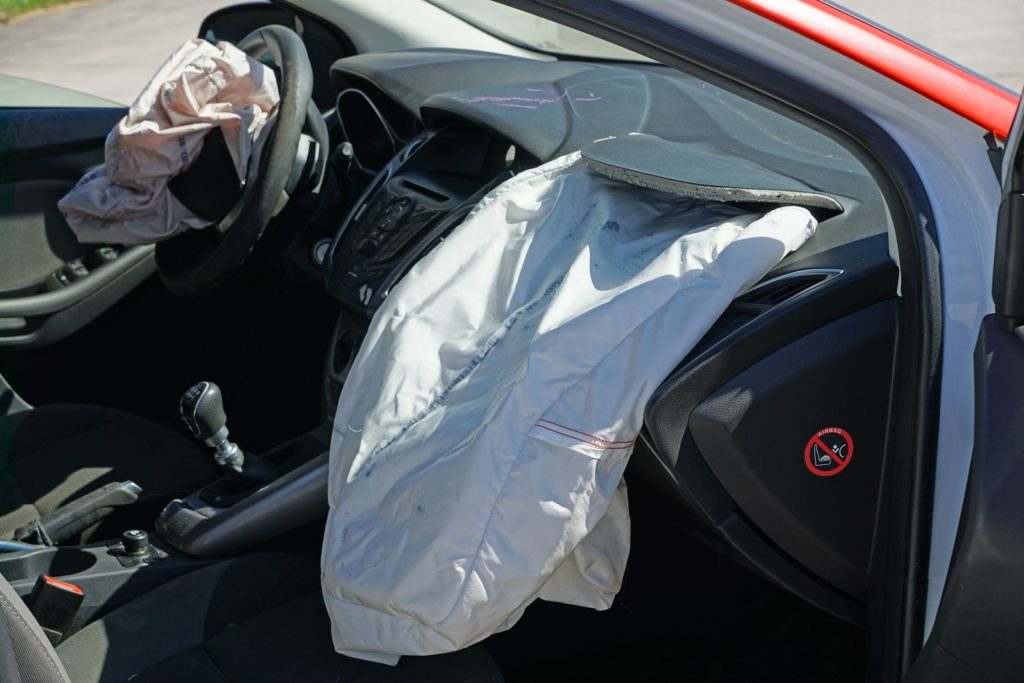 Airbags save lives in car accidents – there is plenty of evidence to support that. But they can also cause injuries, ranging from minor to severe, when they deploy. One way airbags cause injury is through exposure to the chemical dust they contain. When airbags deploy in a crash, drivers and passengers may suffer chemical burns or thermal burns from high temperature gases.
How does airbag dust cause injuries?
Airbags are designed to deploy at a certain impact severity in front-end or near-front-end collisions. They contain chemicals that make the bag open and fill up with air at an incredible speed when triggered by an impact. The main chemicals contained in airbags are sodium hydroxide and sodium azide. When a crash happens and an airbag deploys, dust particles from the chemicals are released. This can lead to injuries and serious side effects, including:
Chemical burns, usually attributed to sodium hydroxide, as stated in a study published by the National Institutes of Health (NIH)
Direct thermal burns from high-temperature gases
Indirect injuries from melting clothing
Breathing problems from airbag dust in the lungs
Headaches, skin or eye irritation, dizziness, weakness, blurred vision, low blood pressure, slow heart rate, and effects on the kidneys from exposure to sodium azide, according to the Centers for Disease Control and Prevention (CDC)
Burning of the eyes, skin, and inner membranes, and temporary hair loss from exposure to sodium hydroxide, as reported by CDC.
Can airbag injuries be prevented?
Despite the risk of injury, we need airbags in our vehicles – they can help save our lives in a crash. The following tips can help you minimize your risk of injury in an accident that causes airbags to deploy:
Get out of the vehicle as soon as possible after an airbag deploys to minimize effects of the dust.
Wear a seatbelt to help keep your body from shifting forward into the airbag deployment area.
Hold the steering wheel in the eight and four o'clock or nine and three o'clock position to keep your arms and wrists from being fractured or hitting you in the face when the airbag deploys.
Sit as far back as possible from the steering wheel or dashboard. Keep at least 10 to 12 inches between your chest and the airbag enclosure.
Put children ages 12 and younger in the back seat, buckled in with a seat belt or child restraint.
Can you receive compensation for airbag injuries?
If you were injured in a crash caused by another driver's negligence, you could be entitled to pursue compensation from that driver for any injuries you sustained in the crash, including injuries caused by your airbags. You may be able to claim compensation for past and future medical expenses, lost earnings, loss of future earnings, pain and suffering, emotional distress, and other losses. If a defective airbag caused your injuries, you may have a claim against the manufacturer.
How can I find out if I have a case for airbag injuries?
The best way to find out if you have a case is to meet with an experienced Virginia personal injury lawyer. At GibsonSingleton Virginia Injury Attorneys, personal injury is all we do. We offer a free consultation and work on a contingency basis – meaning you pay us no fees until we recover compensation for you.
My partner John Singleton worked for large insurance companies in the past and knows how to respond to their tactics effectively. I have served as a federal and state prosecutor, successfully bringing hundreds of cases to trial. We can tell you if you have a case and what compensation you may be entitled to claim. We can also advocate effectively with insurance companies on your behalf and take your case to trial if necessary to get you full compensation. If you have sustained airbag injuries in a car accident, call us today at (804) 413-6777 or toll-free at (855) 781-6777.
Share This Page:

It costs you nothing for our firm to represent you. We only get paid when you do. Learn more
Prevention, empathy, and diligence are hallmarks of everything we do at GibsonSingleton Virginia Injury Attorneys. Our community can see these ideals lived out in our work to prevent personal injuries from happening.
Safety Education
GibsonSingleton launches a "Texts=Wrecks" campaign to reduce the number of people injured or killed by distracted drivers.
Annual Coat Drive
During the fall, our team works to distribute coats to people in need in our community.
Hands-on Service
John and Ken join the Gloucester Point Rotary Club in cleaning up the community.
Supporting Local Schools
The Gibson family participates in Gloucester's Botetourt Elementary Shuffle fundraiser.